The scholarship is a financial aid which is given to the capable students with outstanding academic performance. The purpose of granting scholarship is to encourage the students by giving them financial aid in the form of reward. Scholarship is the amount of money, which enables the students to continue their studies.
Students are not required to pay it back to the granting institution. In order to get the scholarship, a student is required to fill out the scholarship application form. There are many requirements for applying for the scholarship through this form. The most basic and first requirement is that the form should be filled by the admirable students. The form may be provided by the scholarship awarding institute or the person can design the form by himself. The form allows the students to apply for the scholarship in their desired subject. Some scholarship application forms are general, while some are specific to a subject.
The form includes all the information of the student. The personal details and the academic record of the student are the most basic questions which are asked while filling the form. There is no specific format to be followed in the form. Each institute has a different format and different type of information included in the form depending on its standard. It may be a difficult task to prepare a scholarship form at home.
A perfectly drafted scholarship application form can help you getting the scholarship easily so, there is a great challenge for you to do everything in the form perfectly. There are several templates available on the internet which can be used to design your own form. Usually the institute, for which you want to apply scholarship, has its own format of the application form which it provides to the candidate to make a scholarship application form.
Preview & Download Details: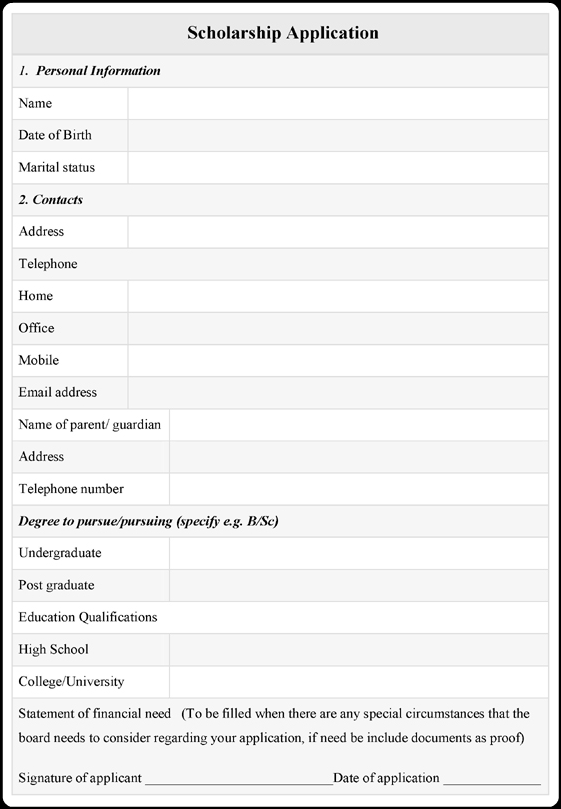 Download: Word (.doc) 2007+ and iPad
Download: OpenOffice (.odt) Writer
Download: PDF (.pdf) Format