What is employee appraisal form?
Employee appraisal form is such a form which is used when a company wants to give the feedback on the basis of the performance of the employee. With the help of an employee appraisal form, an employee evaluation can take place and the employee also sees where he stands and what improvements he needs to have in his performance.
There are many benefits which a company gets if the appraisal of the employee is carried out. For this purpose, using the employee appraisal form is the most effective method. With the help of an employee appraisal form, the staff of any organization gets the structured opportunities which enables them to discuss their work at different levels and they also evaluate that how they can support each other. The appraisal form also provides the individual feedback on the basis on work performance, which can then be used by those individuals in their professional life. The formal channel is also identified through the employee appraisal form. This channel helps in identification of the needs of the company's employees.
The form also tells what the expectations from the specific employee are, and how these expectations are fulfilled and it also elaborates that how an employee is working to get the objectives of an organization. The counselling of the employees is also done and they are given the opportunity to share their views with each other. The employee appraisal form includes the personal information about the employee. It also includes the date of joining and also the date of leaving in case the employee has left the company. You can also design your own employee appraisal form at home if you know the format to be followed. You can follow any pattern for designing the form depending on the nature of your company.
Preview & Download Details: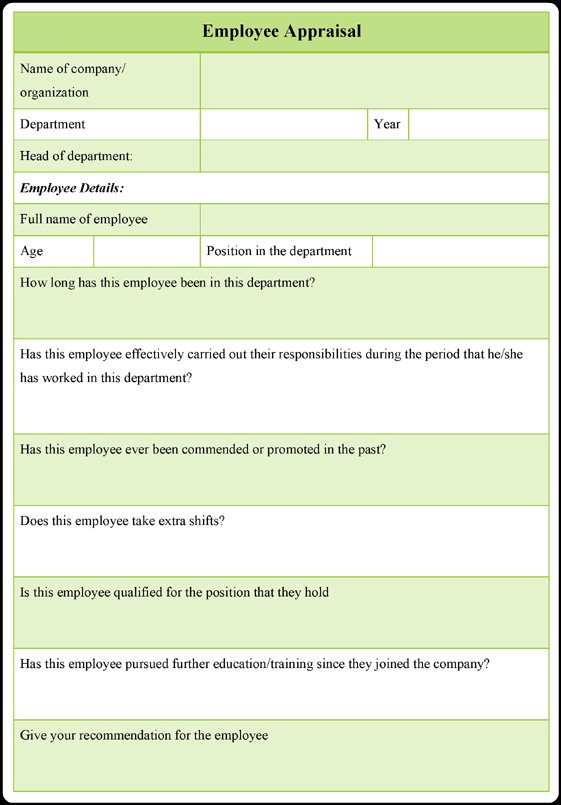 Download: Word (.doc) 2007+ and iPad
Download: OpenOffice (.odt) Writer
Download: PDF (.pdf) Format