The divorce application form is required to be filled when anyone wants to get the divorce. After filling the divorce form completely, it is required to be filed in court. There are instructions on the divorce application form about filling it. The instructions also help the person in filing the form in court.
There are different types of divorce forms which a person can take. The type to be chosen depends on the natures and the reason behind the divorce. The form includes the information about the applicant and the most important part of the form is the one which asks the applicant to elaborate the reason of the divorce.
There are two basic types of forms which a court usually accepts which are fault divorce and no fault divorce application form. The applicant can send the notice to the opponent or can directly get the divorce form and file it in the court.
Those people who want to get divorced should know about the legal ways. For example, anyone of the couple does not want to discontinue the marriage relation, then the other one can get the divorce through legal way. Before you file the divorce form in the court, you should preferably hire the lawyer. When the couple appears in the court for divorce, the lawyer asks both parties to fill the divorce form which contains the personal information about the person and also the reasons for asking for divorce.
There may be some critical and confusing information in the divorce application form which a normal person may not understand. In this case, hiring a lawyer is useful. Although the divorce application form itself contains a lot of instructions about form filling, you can get further detailed information about filling the form from the lawyer.
Preview & Download Details: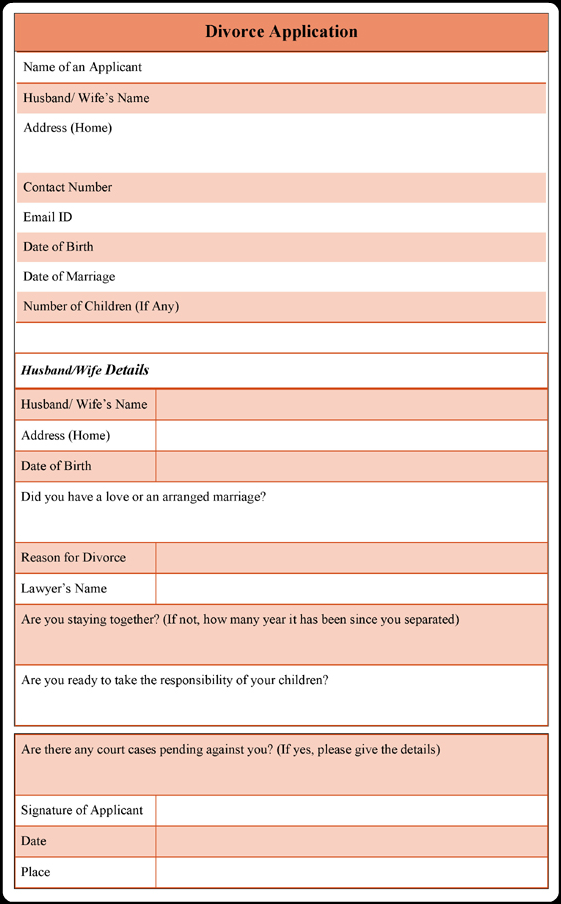 Download: Word (.doc) 2007+ and iPad
Download: OpenOffice (.odt) Writer
Download: PDF (.pdf) Format