What is the cash flow form?
The cash flow form is used to keep track of all the inflow and outflow cash. The inflow of the cash means the money which comes from the cash receipts and the outflow of the cash means when the company paid the money. This is a very technical document which is used by the businesses just as balance sheet and business statement.
Cash flow form can also be regarded as a measure of financial performance. With the help of cash flow form, a company is able to check all those opportunities which it can avail to enhance its profit. Originally, the cash flow form was designed for small business, but nowadays, it is being used in every business regardless of its size. The cash flow form can be designed for different time duration. The profit and loss projection in any business can be calculated with the help of cash flow forms.
In the form, the total cash available to the company is written and then a list of all the operations which are performed throughout the year are mentioned along with the money which was spent on those operations.
The investing activities are also mentioned in this form. The investing activities list explains all those tasks which were performed by the company in the form of investment. Another part of the cash flow form is the list of financial activities. At the end, the total of all the expenses are noted. It also includes those activities which have made company to earn the money. In this way, the flow of cash to and from the company's account is monitored which tells about the performance of the business. Cash flow can be positive and negative. The negative cash flow is the indication of the loss which a company can face.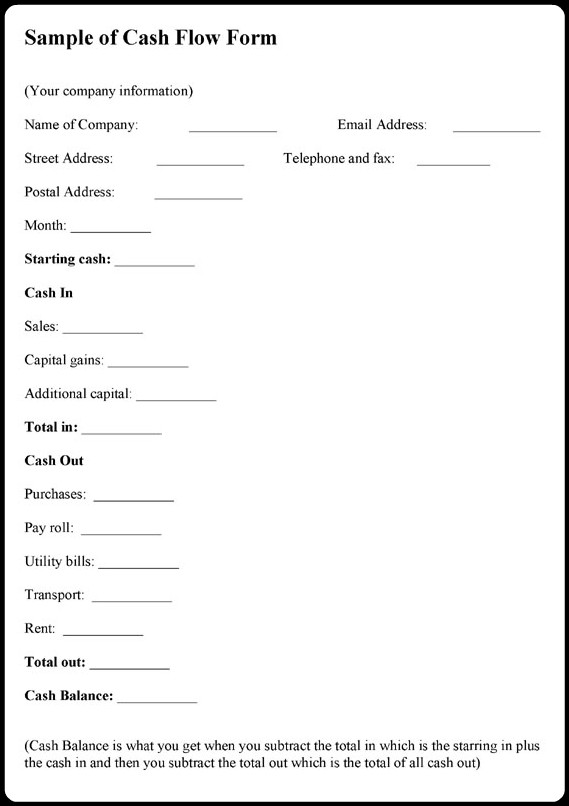 Download: Word (.doc) 2007+ and iPad
Download: OpenOffice (.odt) Writer
Download: PDF (.pdf) Format